Blog
99% Email Deliverability in Salesforce
Written by Gijs Hovens
in Blog
As a marketing manager for Plauti, one of my main worries was getting our emails delivered to our customers and leads. With delivery rates of around 95%, I was not a happy camper. Sending too many emails that result in a hard or soft bounce leads to lower deliverability with email solution vendors such as Google, Microsoft, and ISP's possibly putting you on a blacklist. We improved our AppExchange solution Record Validation to tackle this problem and raise our delivery rate to >99%.
Challenge
Plauti uses many different email types: transactional emails (order confirmations, invoices, demo confirmations), newsletters, product updates, and personal mails. For automated emails, Plauti uses Pardot. We wanted to be able to have fine-grained control over our lists and recipients. For transactional and personal mails, we always want to send our mail, regardless of the email address status. We cannot accept the slightest chance that a customer does not receive a transactional email because we decided not to send one. For less essential emails like product updates and newsletters, we wanted a stricter list of only valid and non-bouncing email addresses.

Solution
We improved Record Validation by including an SMTP check feature. An SMTP check contacts the email server of the recipient to verify if a specific email address exists. We also check for known free email domains (like Gmail), role-based addresses (like admin@..), and known spam-trap and temporary email (like mailinator) domains. Each status has its own status code that allows you to in- and exclude email addresses on your lists and automations on a very granular level.

The next step was to create a field on the Lead & Contact objects to store the email status. After that, it was just mapping the email status to that field in the Record Validation setup.

With the batch functionality, we checked all email addresses in our database. Now we had detailed status codes for all the email addresses in our database. We dialed in our newsletter lists in Pardot to exclude disposable, spam-trap, role-based, incorrect syntax, bouncing, and unreachable email addresses.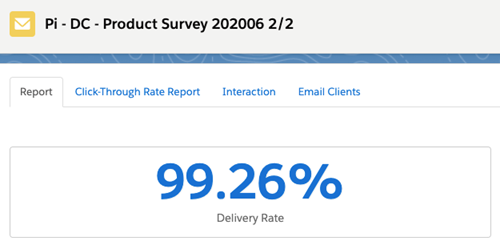 We reduced our hard bounce rate by a factor of 6. Also, we achieved a >99% delivery rate in Pardot. We no longer jeopardize our deliverability by mailing to invalid and bouncing email addresses. We are also sure we don't annoy our customers by sending newsletters to invoicing or procurement email addresses where they will be sent straight to the trash anyway.

Are you interested in Record Validation? Install our solution from the AppExchange with 100 free test credits or schedule a demo.