Blog
How insurers, financiers, and banks keep their customers happy
Written by Daniela Cajigal
in Blog
Satisfied customers are customers who are willing to build strong long-term relationships. We live in a world where most companies look out for their well-being without paying attention to the complaints and goals of their audiences.
Companies that can contribute to the happiness of their customers are those that can differentiate themselves from the competition. This creates an ideal environment for the continuous flow of healthy revenue, especially in the financial and insurance industries.

The question here is, how do these companies manage to look after their well-being and that of their customers? In this blog, Plauti shares three ways to achieve this.
1. Everything at a click away
Today's customers demand that companies offer personalized and immediate service. Unfortunately, the industry cannot keep up. Insurers, banks, and all companies in the field must rely on AI (artificial intelligence) to be present when needed.

Customers need to know what's going on with their accounts and insurance. Not having to go to the branch to do errands improves their experience. No waiting in line for hours. No waiting in vain to find out they have forgotten a document when it is too late. Digital platforms allow customers to open their bank accounts and apply for insurance from their cell phones. Even with a selfie or a video call with an agent. They also allow them to access basic queries about their account movements, perform routine transactions with their cards and find out instantly about their insurance coverage. Good things and bad things happen in life. A customer may need to check their account balance or request a loan when buying a new car. The same customer may require assistance from their car insurance when they have a car accident months later. In both cases, the customer's priority will be to be able to move freely, meet their objectives, and take care of themselves without having to waste time waiting in lines.

Another way to make customers happy is to offer flexible platforms to activate and deactivate functions such as insurance and bank services and the option to enable additional services. Even the claims process benefits from technology. After filing a claim, customers feel out of the loop, as they have not received solutions or updates for days or weeks. When the insurer or bank only offers face-to-face service, customers resort to phone calls, jamming lines, and further slowing down processes. Processes with lengthy paper forms that must be scanned and then reviewed ultimately discourage customers, affecting the efficiency of the service and the customer experience.
2. To get to know the customers
Customers who get additional benefits directly or indirectly find more value. These are real people and not just numbers and wallets. Customers who feel rewarded with good service or even gifts are the ones who think they need to give something in return, so they tend to stick with their banks and insurers: Whether it is a customer receiving a reward for staying five years after signing up for a service or a customer who has been reimbursed for having fulfilled an activity. The reasons do not have to be the most far-fetched. Conveniently, companies can show how much they appreciate their customers. The personalized treatment makes a difference. It makes the customer feel known. As customers become more attached to their insurance company, the rate of satisfied customers increases significantly. Suppose a customer has taken out three insurance policies. In that case, good service increases the likelihood that they will take out additional policies with the same insurer, as in the case of opening bank accounts.

Technology helps employees to operate smoothly and comply with these actions. By having updated and complete databases, they can differentiate one client from another. In addition, through a platform, they can schedule the sending of emails, messages, and calls. This way, agents do not lose track of the follow-up, improving their quality of life. A happy staff serves customers better. Satisfied customers are loyal and are more open to doing more business with a company.
3. Ensure a safe space
There are increasingly contactless payment methods that facilitate transactions and do so securely. Much of customers' dissatisfaction comes from the lack of follow-up by companies. In the case of banks, customers are more satisfied when they know they will receive an alert the moment the system detects abnormal activity or when a card is used. In the case of insurers, customers need to know when their insurance is about to expire to avoid going through a bad experience by not being able to get assistance when they need it most.

For this, even apps from popular companies serve as a bridge between establishments and banks. For example, services such as Apple Pay, available on iPhone and Apple Watch, greatly facilitate digital adoption by end customers and banks. Companies need to work to offer platforms compatible with the most widely used options in the market.

Insurers and banks need to have complete control over their customer portfolios and be sure to have quality platforms with reliable security systems.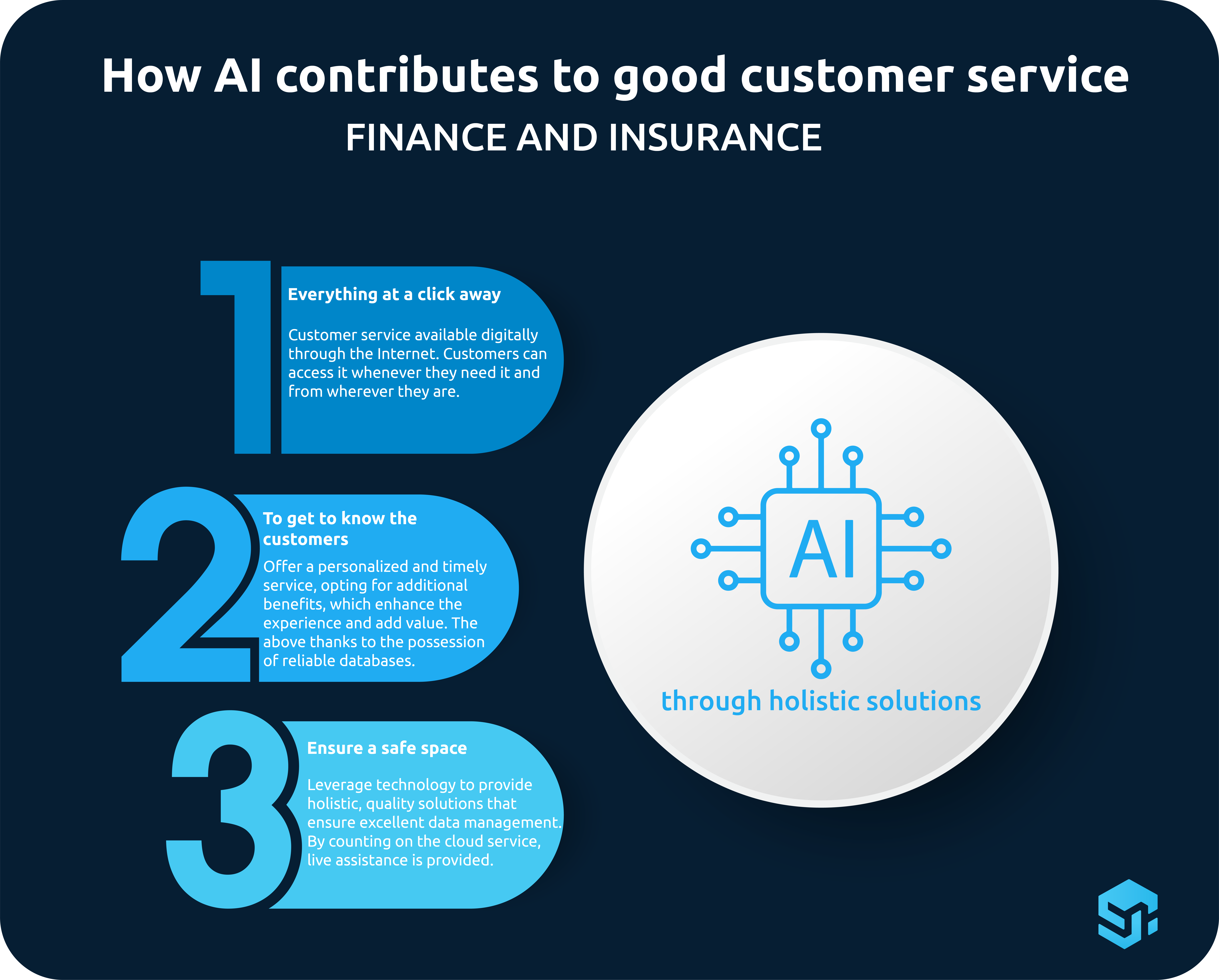 Conclusion
For the above three points to become a reality for companies in the insurance and financial industries, they must know how to capture, interpret, manage and store customer data. This is only possible when leaders opt for holistic and native solutions. A complete and quality service is perceived by offering a true customer 360 experience. Both employees and customers fulfill their roles more efficiently, saving time, money, and effort.

By refocusing their efforts, companies discover that they can deliver higher volumes of products or services more efficiently. A clear line is maintained between activities that can be performed by AI and those that are the responsibility of human talent. This action reduces operating costs and frees up resources for reinvestment in growth areas.
-
Do not forget about checking Plauti's Whitepapers:
Generational value of data hygiene: three ways accurate opportunity intelligence boosts gross sales
How AI enables insurers to thrive in the face of global adversity