Blog
The 5 Best Duplicate Checking Solutions on Salesforce AppExchange in 2023
Written by Yves Sinkgraven
in Blog
The 5 Best Duplicate Checking Solutions on Salesforce AppExchange in 2023
Every company has ''bad apples'' in its data. It could be outdated records, duplicate records, or even worse – flawed or incorrect data. If your company is using Salesforce, then you're aware that managing a growing number of records can be tricky and time consuming. Not only does it take up time, but poor data quality can also negatively affect your companies' activities aimed at growth. Duplicate data is one of the biggest problems in data quality, and to get on top of it, you need a duplicate checking solution that matches your companies' unique needs. To help you along your path to discovering the right fit for you, here are the top solutions of 2023 with the pros and cons of each.
Top solutions 2023
1. Cloudingo DupeCatcher
Cloudingo works together with their free product, DupeCatcher. Together, they make a great tool for taking control of duplicate records in Salesforce. It's worth noting to make the most of this products deduplication functions, you will need the paid version of Cloudingo to run in tandem with DupeCatcher. That said, examine some of the features and benefits of this solution. However, this solution is not native to Salesforce.
Features & benefits:
Find duplicates – Cloudingo scans your entire Salesforce org for matches. The results are shown on a single dashboard which makes it easier to view and take control of the results.
Matching duplicates – You can match records based on user-defined values which use a combination of Salesforce fields using exact, fuzzy or matching styles.
Import and Update – Match records on import files against current Salesforce records so no duplicates enter your records.
Sync and Integrate – Cloudingo's API gives you the ability to sync and identify master records between Salesforce, Salesforce integrations and other on-premises or cloud applications.
Process large sets of data – Up 50k records can be processed.
2. Duplicate Check
Duplicate Check (DC), as the name might suggest, is a top-notch tool for clearing your Salesforce database from duplicates. It's one of the top rated solutions on the Salesforce AppExchange and G2. Furthermore, it is 100% Salesforce native. Listed below are some of the main features of Plauti DC.
Features & benefits:
Unlimited user access – DC offers an unlimited number of users who can use the application. This is a very big bonus since the people who work with the data the most often know best how to correct bad data.
End-user capabilities – There are capabilities available specifically for end-users so you can tailor the needs of your organisation. For instance, perhaps you don't want end users to have the ability to merge duplicate accounts. Instead, set their permissions so that they can flag an account for merge, which can later be done by your administrator.
Fuzzy matching – You can scan duplicate records by using advanced fuzzy matching methods. This helps you detect records with spelling errors and typos, or company names written in different formats, for instance. Of course, exact matching is also possible.
Advanced Integration – When performing integration, you have an advanced and customizable set of rules available. From Apex plugins, flow actions, Lighting Components and more. Plauti leads the way when it comes to integration, with access to various API's and customisation options.
Salesforce native – Duplicate Check is designed from the ground-up to run 100% native inside Salesforce, so all data stays inside your environment.
Rest API – Plauti DC provides an API solution which gives you the ability to push and pull the data from external systems. This is handy if you're using legacy systems in your environment as you'll be able to link them with Duplicate Check.
Process Large Data Volumes - Duplicate Check has proven to work with millions of records. Another powerful feature is that you can leverage your own hardware to enhance the processing abilities of DC, meaning you can have your duplicate results for larger jobs much faster.
Automation – Using the rest API, you can process incoming records directly.
Excellent Customer Support – Plauti is ranked very high for their outstanding customer support. With response times inside half an hour, rest assured you're in good hands with Plauti support.
3. DemandTools Elements
DemandTools Elements is another widely used and trusted tool for duplicate management. Below are some key features of Demand Tools. Like Cloudingo, this solution is not native to Salesforce.
Features & benefits:
Cleaner – A feature that prevents duplicate creation and flexible lead conversion. Data will be merged based on set of duplicate records and value of the field.
Maintain records – A handy features where data backup of the record will be automatically creates once data merge activity performed.
Discover – When you insert new data to your system, it will be checked automatically during import to find invalid information or duplicates.
Reporting abilities – Generate reports about each process in your system to check productivity.
Flexible and customizable – you can check both standard and custom objects when performing duplicate checks.
4. DataGroomr
DataGroomr is a powerful duplicate checking software that makes use of machine learning to eliminate bad data. The fact that it uses machine learning makes this solution interesting and sets it apart from the others. Here are some of the highlights of DataGroomr.
Features & benefits:
No need for filters – Identify duplicates without using a filter. Whenever you merge duplicates, the software is learning from your actions and improving itself using its machine learning abilities.
Lightning Component – See duplicates when you're in Salesforce with a lightning component that can be added to any record page layout.
Import abilities – The "Importr" feature checks data on import files against existing Salesforce data and stops duplicates from being imported.
Auditing – See a full list of all actions taken by DataGroomr using its auditing feature.
Automating — You can automate actions like verify, merge, convert and others easily.
Machine Learning — As mentioned, this solution makes use of machine learning and therefore it can learn and adapt to your processes as you use it. This may help speed up some processes.
5. At Home - No Duplicates
No Duplicates is one of the newer duplicate checking tools for Salesforce. It's free (during beta period) and it's hard to argue with something that's free. It's also native to Salesforce. Let's look at some of the other features.
Features & benefits:

Free – During the beta phase you can use No Duplicates for free – hard to beat that!
Good interface – The interface is intuitive and makes its functions learning easy.
Salesforce Native – As a native Salesforce solution all your data is processed within your own environment.
Fuzzy Matching – No Duplicates has fuzzy matching abilities so it will catch simple data errors like typos, for instance.
Scheduling – Schedule deduplication processes so you can perform heavy duty tasks on weekends of after office hours.
Custom Objects – Besides traditional objects you can also run tasks on custom objects.
Unlimited users – No limits on the number of users or processed records.

How to choose the right solution for your company
Although all the solutions mentioned in this post are viable solutions, every company has different needs and therefore finding the best for your company is what matters most.

One key thing to consider in this process is how many users need to access the duplicate management tool. It might be that you only require a couple of users to manage duplicate records, in which case having unlimited user access won't be a big factor for you. However, if you'd like you whole sales team to be able to access some features of data cleaning, then having unlimited user access is a great benefit.

At Plauti, we believe that since the sales, marketing and customer support teams are often the ones working hands-on with the duplicates, they know best how to deal with them. Not only does it save time, but it allows them to be active members in keeping clean data. You can also customize these features so that certain privileges, such as merging, are not available to certain groups.

The size of your Salesforce org is another key factor when deciding what duplicate management system is the best for you. If you are a large company with hundreds of thousands, or perhaps even millions of records, Plauti Duplicate Check is the definite choice as it can process millions of records and can even be sped up by using company hardware to perform the task. If you are a smaller organisation with only a couple thousand records, then Cloudingo DupeCatcher will work fine.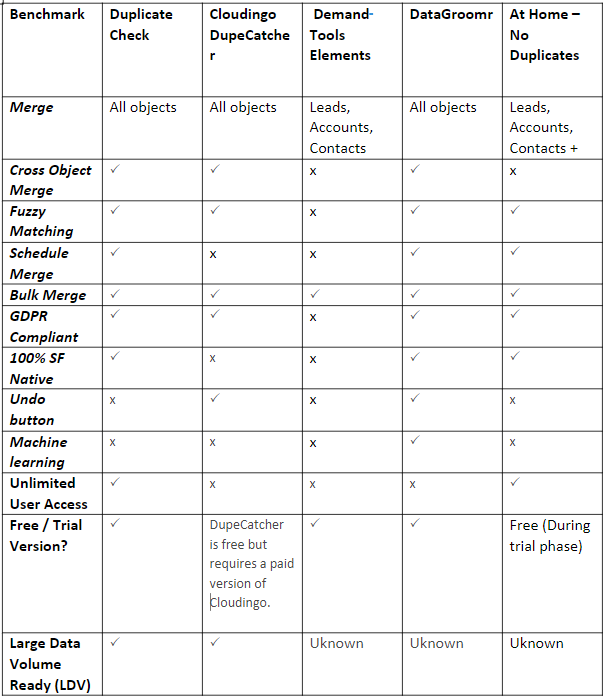 To conclude this article, it's worth pointing out that there is no ''silver bullet" solution that will fit the needs of every company in every situation. Instead, deciding on the right solution involves carefully examining the criteria of each solution and deciding which one fits the needs of your company best, almost like finding a shoe that fits you comfortably. It may be that your company is based in Europe, and GDPR compliance is a bigger concern for you. It might be that certain features of a product are more important than others, like machine learning, fuzzy matching, or an undo button.

If you're looking into duplicate management solutions and would like to learn more about how Plauti DC can help your organization, you can download a free trial and test it out for yourself. To help you get the best results, get in touch with one of subject experts at plauti.com and they'll help you set up and tailor Duplicate Check to meet the specific goals of your organization.